Snapshot Report ,
Tags: Africa, China, coup, demonstrations, Election, elections, EU, Europe, ISIS, Media, NATO, News, Opposition, Protest, protests, Rendon, Rendon Group, trg, Twitter, UN, United Nations

06 Jun
The Rendon Group
(30MAY16)
Each week The Rendon Group's media analysts will focus on a different continent and a different issue affecting that continent. As always, we remain available to answer any questions you may have and to provide additional information upon request. For more information regarding The Rendon Group's products and services, please contact us at Alert@Rendon.com or +1-202-745-4900.
Opposition Protests in DR Congo as President Kabila Seeks to Retain Power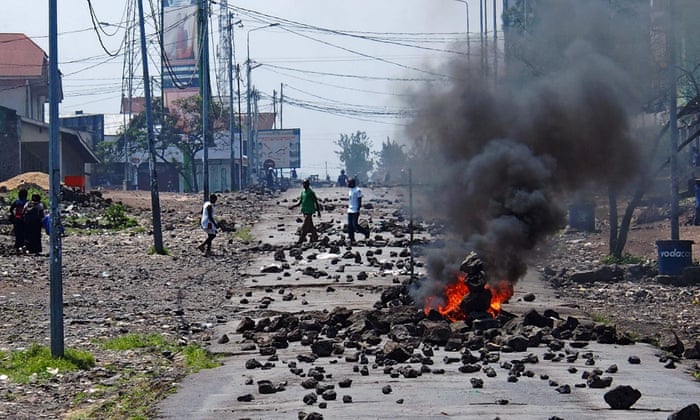 A barricade burns in Goma during a protest against President Joseph Kabila.
(Fiston Mahamba/AFP/Getty Images)
This week's snapshot focuses on the ongoing political crisis in the Democratic Republic of the Congo. On 11MAY2016, the country's supreme court ruled that President Kabila could stay in power beyond the end of his term on 19DEC2016 if elections were delayed, effectively allowing President Kabila to remain in office indefinitely. The opposition held large protests against what it called a "constitutional coup," which were violently suppressed by the government. Foreign governments have encouraged the government to stick to the country's election timetable for NOV2016 elections.
News summary of events during the week of 23MAY16 – 30MAY16
Sample of Twitter handles tweeting about DR Congo political crisis
Sample of Third Party Validators regarding the DR Congo political crisis
Christoph Vogel, Researcher, University of Zurich
[A timely ballot is now] "a largely unrealistic scenario."
"A Constitutional Coup in Congo," FP, 26MAY2016
Evie Francq, DR Congo researcher, Amnesty International
"What is happening at the national level with the elections is having an effect on the armed groups, they are increasing recruitment."
"Pressure Builds on Congo's President as EU Foreign Ministers Meet," WSJ,  23MAY2016
Hans Hoebeke, Senior Congo analyst, International Crisis Group
"Cohesion in the Kabila camp has been maintained these last months. At this stage there is little-to-no pressure on him."
"Congo's President Shows Would-Be Successor Who Is in Charge," Reuters, 19MAY2016
Kris Berwouts, Independent Congo analyst
"The government fears [Katumbi] because he has the potential to mobilize an electorate in different parts of the country. There is an aura of success around him."
"Congo's President Shows Would-Be Successor Who Is in Charge," Reuters, 19MAY2016
Laura Seay, Assistant professor of government, Colby College
"Many people have significant doubts about how Katumbi amassed his fortune."
Sample of open source research conducted by TRG analysts related to the DR Congo political crisis
EU Urges Congo Authorities to Redouble Election Efforts
Media: Associated Press
Byline: N/A
Date: 23 May 2016
The European Union has urged authorities in Congo to breathe new life into the electoral process so that political chaos doesn't undermine the chances for free, fair and inclusive polls.
EU foreign ministers called Monday on authorities to draw up a new calendar for a vote currently scheduled for November and update electoral lists.
END
Congo's political crisis stokes fears of widespread violence
Media: Associated Press
Byline: Richard Lardner
Date: 23 May 2016
WASHINGTON — A simmering political crisis in Congo that the U.S. and its allies have been unable to defuse is stoking fears in Congress that one of Africa's largest countries is on the verge of slipping into widespread violence.
Tension is building in Congo over President Joseph Kabila's maneuvering to avoid national elections and remain in office beyond his constitutionally permitted term, according to U.S. officials and members of a coalition opposing Kabila.
END
U.N. concerned by rising political tension in Congo ahead of vote
Media: Reuters
Byline: Louis Charbonneau
Date: 25 May 2016
United Nations Secretary-General Ban Ki-moon on Wednesday voiced concern about reports of rising political tension in the Democratic Republic of the Congo due to uncertainty about a presidential election scheduled to take place later this year.
The U.N. statement comes days after three Congolese activists, arrested hours before a general strike in February to demand that President Joseph Kabila leave power when his mandate expires this year, were sentenced to a year in prison.
END
Two killed in protests against election schedule in Congo
Media: Deutsche Presse-Agentur (DPA)
Byline: Fiston Mahamba and Sinikka Tarvainen
Date: 26 May 2016
Beni, Congo (dpa) – At least two people were killed when tens of thousands of people took to the streets in the Democratic Republic of Congo to demand that national elections be held on time, the United Nations Joint Human Rights Office (UNJHRO) said Thursday on Twitter.
At least four others were injured and 59 demonstrators were arrested as they clashed with police in different locations around the country, according to the UNJHRO.
END
DR Congo opposition protests rocked by ugly incidents
Media: Xinhua (China)
Byline: N/A
Date: 27 May 2016
KINSHASA, May 27 (Xinhua) — Peaceful protests organized on Thursday by various opposition groupings in the Democratic Republic of Congo (DR Congo), were rocked by ugly incidents, although they did not destabilize the population's normal activities.
The protests were aimed at denouncing a recent ruling by the Constitutional Court which allowed President Joseph Kabila to remain in power beyond 2016, until the presidential elections are organized.
END