Snapshot Report ,
Tags: China, EU, Iran, Iraq, ISIS, Islamic State, Lebanon, Media, Middle East, News, Rendon, Rendon Group, Syria, Tehran, trg, Twitter, UN

13 Jun
The Rendon Group
(06JUN16)
Each week The Rendon Group's media analysts will focus on a different continent and a different issue affecting that continent. As always, we remain available to answer any questions you may have and to provide additional information upon request. For more information regarding The Rendon Group's products and services, please contact us at Alert@Rendon.com or +1-202-745-4900.
First Phase of Battle for Fallujah Intensifies, Pressure on IS Group Mounts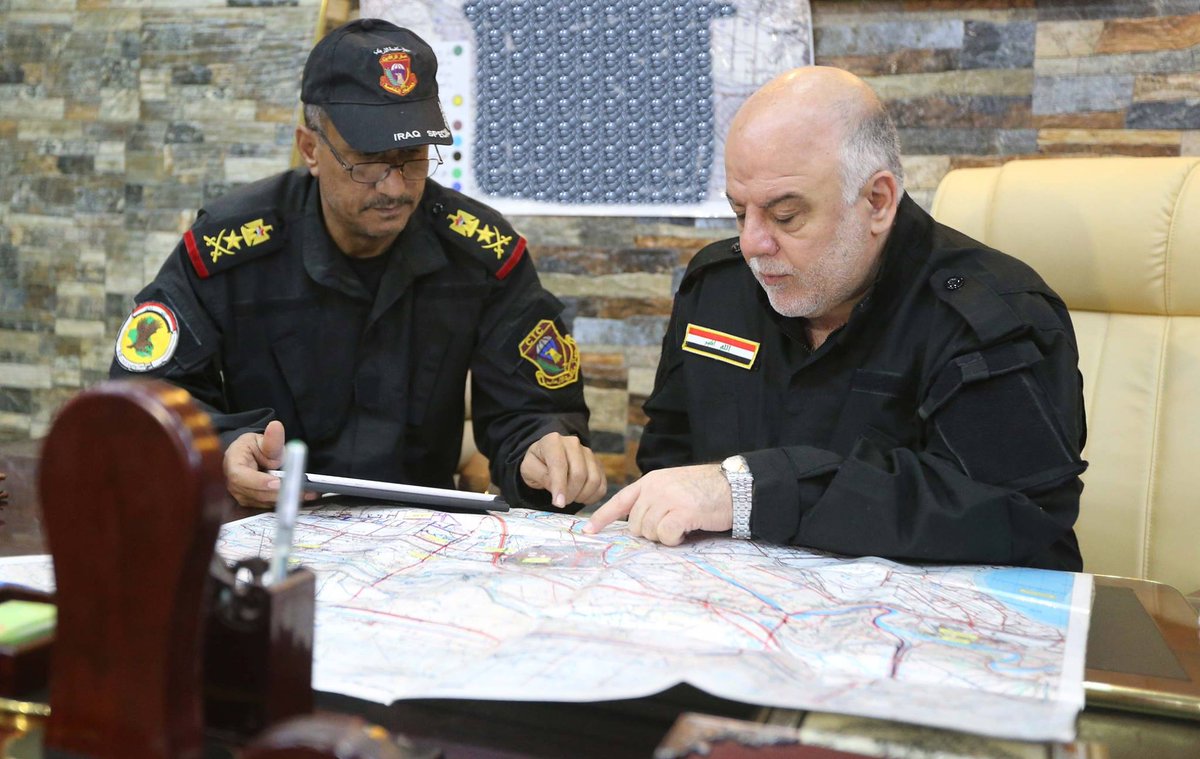 A picture posted on PM al-Abadi's twitter is captioned, 'From the front lines in Fallujah tonight where our brave forces continue liberation operations & defend civilians,' 04JUN16
Twitter: @HaiderAlAbadi
This week's snapshot focuses on the second week of the battle to retake Fallujah from the Islamic State group. On 22MAY, PM Haider al-Abadi announced the "Zero hour for the liberation of Falluja has arrived." Backed by aerial support from the US-led coalition and paramilitary forces primarily composed of Shiite militias, the PM launched a military operation to recapture Fallujah, which has been under control of the extremist group since JAN14. More than 50,000 people are believed to be trapped inside the Sunni majority city, about 40 miles west of Baghdad. As forces continue their advance into the IS group's bastion, questions are being asked as to what and who will fill the vacuum in a key city that has been the symbol of resistance and sectarian turmoil in Iraq since the fall of the Baathist regime in 2003.
News summary of events during the week of 29MAY – 05JUN16
Sample of Twitter handles tweeting about the battle for Fallujah
Sample of Third Party Validators regarding the battle for Fallujah
Lina Khatib, head of the Middle East program at Chatham House
"The timing of the Fallujah initiative is very much politically motivated. Abadi has not yet delivered politically so in a way he is seeking stability through military engagement against [ISIS]."
'Analysis: Fight for Fallujah Highlights Abadi's Political Battle,' NBC News, 03JUN16
Michael Knights, Lafer Fellow with The Washington Institute
"The Iraqi government has learned that excluding the[PMF] entirely, as in Ramadi, can cause resentment. Time will tell how quickly and how effectively ISIL resistance in Fallujah will be overcome, but the formula being used at Fallujah represents a positive evolution for the war in Iraq."
Patrick Martin, analyst at Institute for the Study of War
"The [Shi'a-dominated] Popular Mobilization [PMF] appears content to let the Counter-Terrorism Service (CTS) with Coalition airstrikes recapture Fallujah city itself while Iraqi Shi'a militias establish themselves in the area and take the credit. Grand Ayatollah Ali al-Sistani likely influenced this decision, who insisted on [25MAY] that security forces respect civilian lives and not to be 'extreme.' Sistani's statement indicates increasing concern among the Iraqi Shi'a religious establishment over Iran's prominent role in the Fallujah operation."
Ali Mamouri, columnist for 'Iraq Pulse' at Al-Monitor and researcher and writer who specializes in religion
"First, local government forces must be formed to manage the city's security. Parliament was supposed to enact a law governing the National Guard, which allows each province to have its own local forces that are affiliated with the Iraqi security forces. …This bill would prevent sectarian sensitivities in Sunni hot areas like Fallujah toward the security forces coming in from the Shiite provinces."
'How will Baghdad plan for liberated Fallujah?,' Al-Monitor, 01JUN16
John Nagl, former Army lieutenant colonel, counter-insurgency expert and commander of US forces in a nearby town in 2004
"[The first and second battles for Fallujah in 2004, which were the first times US forces were fighting not just remnants of Saddam Hassein's forces, but Sunni insurgents,] should remind us that when you roll the iron dice of war, you trigger a chain of events you cannot control."
'Column: Marines say new fight for Fallujah sparks anguish over Iraq war,' PBS, 03JUN16
Sample of open source research conducted by TRG analysts related to the battle for Fallujah
Iraqi forces complete buildup around IS-held Fallujah
Media: Associated Press
Byline: N/A
Date: 29 May 2016
ARIQ CAMP, Iraq (AP) — Iraq's special forces completed a troop buildup around Fallujah on Sunday ahead of an operation to retake the Islamic State-held city west of Baghdad, a military officer said, as the militants attacked a newly-liberated town to the west.
END
UPDATE: Bombings in Baghdad, near Iraqi capital kill at least 20
Media: Associated Press
Byline: N/A
Date: 30 May 2016
BAGHDAD (AP) — Militants unleashed a wave of bombings targeting commercial areas in and around Baghdad on Monday, killing at least 20 people, officials said as Iraqi troops poised to recapture the Islamic State-held city of Fallujah, west of Iraq's capital.
END
UPDATE: Iraq forces face tough IS resistance on fringes of Fallujah
Media: Agence France-Presse (AFP)
Byline: N/A
Date: 31 May 2016
Baghdad, May 31, 2016 (AFP) – Iraqi forces faced tough resistance from the Islamic State group Tuesday as they attempted to enter the centre of Fallujah, where there were mounting fears for thousands of trapped civilians.
A day after announcing a push into the jihadist bastion, forces led by Iraq's elite counter-terrorism service had some way to go before retaking the city.
END
UPDATE: Iraqi forces gain ground in clashes near IS stronghold in Fallujah
Media: Xinhua (China)
Byline: N/A
Date: 02 June 2016
FALLUJAH, Iraq, June 2 (Xinhua) — Iraqi security forces on Thursday fought fierce clashes with Islamic State (IS) militants and retook control of an area near the IS-held city of Fallujah in Iraq's western province of Anbar, while the U.S.-led air strikes continued against IS positions outside the city, a military statement and a security source said.
END
Militias may move in to Fallujah if fight drags on: commander
Media: Agence France-Presse (AFP)
Byline: N/A
Date: 05 June 2016
Baghdad, June 5, 2016 (AFP) – An Iraqi paramilitary organisation dominated by Tehran-backed militias is willing to send forces into Fallujah if efforts to retake the city are too slow, its top commander saidon Sunday.
Iraqi forces launched a vast offensive on May 22-23 against Fallujah, which lies only 50 kilometres (30 miles) west of Baghdad and is one of the Islamic State group's main bastions.
Continue Reading
END